and 1/2 stars
It was a kiss to level mountains and shake stars from the sky.
He was everything she'd sworn to avoid.
Poppy Hathaway loves her unconventional family, though she longs for normalcy. Then fate leads to a meeting with Harry Rutledge, an enigmatic hotel owner and inventor with wealth, power, and a dangerous hidden life. When their flirtation compromises her own reputation, Poppy shocks everyone by accepting his proposal—only to find that her new husband offers his passion, but not his trust.
And she was everything he needed.
Harry was willing to do anything to win Poppy—except to open his heart. All his life, he has held the world at arm's length…but the sharp, beguiling Poppy demands to be his wife in every way that matters. Still, as desire grows between them, an enemy lurks in the shadows. Now if Harry wants to keep Poppy by his side, he must forge a true union of body and soul, once and for all...
I'm going to have to work through this page by page, because there are so many things to love about this story.
1. Dodger the ferret. Throughout this series I've loved Beatrix and all her animals, and Dodger was an awesome way to open this story. Seriously, I cannot wait to get to Beatrix's story!
The ferret paused at a corner, checked to make certain he was still being chased, and in his happy excitement he did a little war dance, a series of sideways hops that expressed pure delight.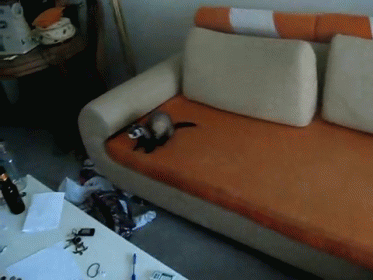 2. The first time Poppy & Harry meet. I loved how smart and open she was, how encouraging, positive and excited she was about Rutledge's Curiosities room. I loved her in the ferret chase, but I really came to admire her when she met Harry.
Poppy stiffened. "It's a reputable hotel," she said. "I have nothing to fear."
"Of course you do," he murmured, "You're looking right at it."
3. Miss Marks and her poems to help Poppy & Bea become proper society ladies ♥
4. The staff at the Rutledge, and the way they try to help in the early days of Poppy & Harry's relationship (which, by the way, is not a good time.) It was a little Beauty & The Beast, but in the most wonderful way. I wonder if Valentine will get a story? I loved his loyalty.
5. The progression of the story with Michael Bayning. I started off really liking him, but as it unfolded I could understand everyone's hesitation. He was a puss.
6. Do you know, I didn't remember hearing anything about Poppy's accident in the earlier books, but I loved hearing about it now. It added a whole new dimension to her character, and I really enjoyed knowing about her closeness with her uncle. Loved it.
"And he whispered that I must always be a good girl, so that we could meet again in heaven someday."
7. I loved the slow, delicious burn of this story. Our couple hit it off straight away, then things go horribly wrong, and their relationship has to be built from less than scratch. I loved how Harry came to understand what kind of woman Poppy was, what she needed in life to feel fulfilled, how she felt... and I loved how he compared her to watch parts.
8. Miss Marks side story. Awesome.
"Is there a message I may convey to him?"
"Yes. Tell him that I hope he rots in hell for what he did to Poppy Hathaway. And then tell him that if he goes near her, I'll murder him."
9. The way the Hathaways stick together. I love this family!
10. The build up for stories to come. I've wanted Leo & Cat's story for a while now and I can't wait to see what happens there. And then Beatrix! Woot woot.
I was really worried for a while that Harry had crushed Poppy's spark, but it ain't gonna happen. I loved how jealous he got, and he deserved it... so I guess this isn't a negative at all.
So basically - nothing. There is nothing I didn't love. I should actually change this review to a 5.
"I never want to be apart from you," he said. "I'm going to buy an island and take you there. A ship will come once a month with supplies. The rest of the time it will be just the two of us, wearing leaves and eating exotic fruit and making love on the beach..."

"You'd start a produce export business and organize a local economy within a month," she said flatly.