"It's been ten years since I've tasted a woman. If you think I'm a monster now, just wait 'til I'm inside you."
The last place Christopher Jacobs, aka X, thought he'd find himself was behind bars. Ten years later, the boy he used to be is gone. In his place is the shell of a man with murder under his belt. Any emotion he once had was left under the gavel when he was given life in prison. That is until the new nurse in the infirmary joins the block. Putting your hands on a prison employee will get you the hole, but some things are worth their punishment, and something tells him Lyla will be worth more than he bargained for. Lyla Evans isn't sure about her new job at a maximum security prison, but showing uncertainty and weakness isn't an option. Taking care of murderers and rapists isn't ideal, but survival is key. She's warned ahead of time about a prisoner named X, but when she's attacked, it's the dangerous X that saves her. Fraternizing with the prisoners is forbidden, but sometimes the most forbidden things are the sweetest.
Tabatha Vargo is the best kind of devil author. I loved everything about this story - from the darkness, to the happy stuff, to the smut-tasticness, to the total mindfuck-slash-kick-in-the-ghoulies-ending ... YES TO ALL!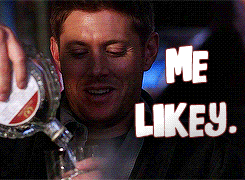 This story is so intriguing. It held me from the first page to the very last, and I literally did not stop reading, even to pee. I've had a problem with gratuitous violence in my romance reads lately, but Ms Vargo danced the fine line between plain-old-vanilla-violence and stupid-never-gonna-happen-violence so wonderfully. I didn't even know there was a line like that until I saw all these books crossing it, but there you have it.
Excellent characters, excellent twists, excellent drama. Loved it!
That ending. Seriously, that'll stick with me for. ever.
Ms Vargo is super mean to her hero. Like, you give him one friend and then do that??? Really? That was brutal. There's a thing that happens. If you've read any of my reviews lately (and really, why would you?) there's this thing I don't like that begins with
SPOILER ALERT - SPOILER ALERT - SPOILER ALERT >>
A and ends in NAL-RAPE. << SPOILER ALERT - SPOILER ALERT - SPOILER ALERT
I don't like it in anything I read. It's always going to cross a line for me.
Oh my God. This book stays with you.