I want to eat these covers, or tattoo them on my hands where I can stare at them forever. Really, whoever thought up this cover art is just crazy good.
How do you fix a love that's been broken beyond repair?
For years, Cassie Taylor tried to forget about Ethan Holt. He was the one great love of her life, and when he failed to return her love, a part of her died forever. Or so she thought. Now she and Ethan are sharing a Broadway stage, and he's determined to win her back. Claiming to be a changed man, he's finally able to say all the things she needed to hear years ago, but can she believe him? What makes this time different from all his other broken promises?
Ethan knows he can't change their tumultuous past, but if he's going to have any chance of being with the woman he loves, he'll need to convince Cassie that her future belongs with him.
Don't miss this stunning conclusion to the unforgettable love story that captivated over two million fans online.
- As with Bad Romeo, I loved Cassie. I loved her youthful optimism, her older, wiser cynicism, her awkward sense of humour. She was a spectacular character, and I really, really loved her.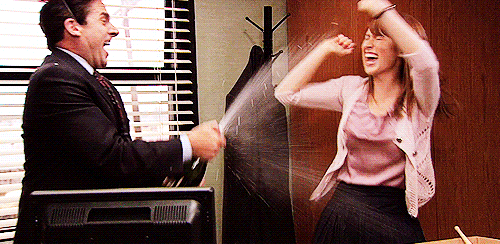 - All the beautiful words.
...and let some of his essence bleed through a tiny chink in my armor. I hide it away and pretend it's not the most precious thing I own.
That's the prettiest thing I've ever heard.
Bravo for faking it yet again, Ethan. You're a perfect counterfeit copy of someone I thought I loved.
- Also, the chuckles! This is one of those books where people say 'seriously, what's so funny?' and you know you can't tell them because they just won't get it without reading Cassie & Holt's story. But you want to tell them. You want to share it with the world.
- I love seeing more of Ethan's progression from broken bastard to well-rounded, passionate, vibrant human being. Plus he's hot as shit, so ya know. There's that.
- Same thing I didn't love about Bad Romeo. I resent having to buy 2 books because half the story was missing from the first. If you just read Bad Romeo, you don't even see the breakup that left Cassie so unwilling to trust. If you just read Bad Romeo, all you've got is parallel stories about stuff you don't know about, and a feeling that you may have consumed more wine than you thought.
- Partly to assuage my frustration, and partly to make a stand against the manipulation, I bought this one on kindle for $3.97. I refuse to spend another $20 on a paperback I shouldn't have needed to buy.
Yep. Still mad.
- I do think Cassie could have done way better. If she'd never met Ethan Holt, she could have gone on being the optimistic, hopeful, sunshiney girl she was before him. He was solely responsible for the pain in her life, and for that I will always want to kick him in the balls a little bit.
This "series" (note my passive aggressive use of quotation marks) would have been one of my top contemporary reads so far this year. But I work hard for the money to pay for the books I read, and I don't appreciate having to buy another book just to get the full story on the book I wanted. Poor form.