He's a killer. A mobster.

The last man on earth I'd ever want to be with. I won't lose my head just because he's hot, Irish, and has a wicked accent to boot.

He's one of the only leads in my best friend's disappearance, and I don't trust him.
So I've got a few rules in mind when it comes to dealing with Lachlan Crow.

1. Keep a clear head and don't get distracted.
2. Do what's necessary and never forget why you're there.
3. Never, and I mean never, fall for him.

Fourth and final rule?

Throw out the book altogether. Because the rules don't apply when it comes to the Irish mafia.

It was only supposed to be temporary, but now Lachlan thinks he owns me. He says he's not letting me go.

And I believe him.

***

Lachlan.

I don't know who she is. I don't know why she's here.

But if it's my attention she wants, she has it.

The Russians want her dead, and now it's up to me to look out for her. This girl is trouble. A distraction I can't afford.

So why have I already decided she's mine?

I've claimed her and there's no going back now.
- I don't read many mafia romances, and I thought this was a really cool intro. There was a lot going on with the Irish guys, and the Russians, and I think there were Croatians Armenians, and Italians, and it was actually really interesting. All the violence and the weapons and the people smuggling...
- Crow is a vengeful motherfucker. Like vicious, bloodthirsty, and when he activates beast mode it is a sight to behold! I loved that part.
- The insta-lust is definitely strong in this one, but both Crow and Mack manage to stick to the more urgent matters at hand... mainly gang violence and rescuing Talia, so I enjoyed watching their relationship progress.
- Mack. You should love her because she's magical . She's an MMA fighter, who doubles as a stripper so special she doesn't even have to get nekkid, and a crime fighter, protector of the downtrodden, superhero, and all at the tender age of 22. And if that doesn't make you love her - she's also a virgin.
In reading this many pages about her, I just thought she was toxic, bitter and yelled a lot. And she constantly undermines Crow and gets him in shit. I couldn't stand her.
- I started to feel that all the stuff going on became too much. Like there was just drama piled on top of drama piled on top of violence, piled on top of gang violence, piled on top of drama. I'm all for pain and violence in a gritty romance... I just prefer when it feels like there's a reason for it.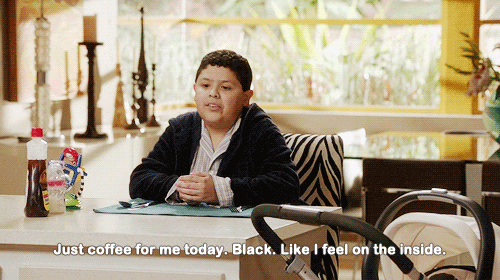 - That obvious Disney channel scene where everyone starts pairing up so you know who to expect in the rest of the series.
A quick, easy read with a lot of good points if you can get on board with the trainwreck that is Mack, and the gratuitous use of violence and rape. I like Ms Zavarelli's writing so I can't wait to see what comes of the series as she hits her stride. Looking forward to Alexei's story, definitely!